3 Phase Variable Auto Transformer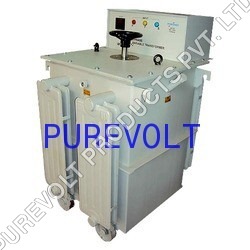 3 Phase Variable Auto Transformer
Price And Quantity
Product Specifications
Air Cooled and Oil Cooled

Electrical Transformer
Product Description
3 Phase Variable Auto Transformer -
Rating Available: 4 Amps- 1600 Amps
We are endowed with a state-of-the-art infrastructural facility which back us in manufacturing and supplying 3 Phase Variable Auto Transformer. We manufacture this transformer using high quality materials and components, sourced from authentic vendors. It is an energy saving electrical transformer which can convert the voltage as required. Available in different sizes and technical specifications, our 3 Phase Variable Auto Transformer is highly demanded in the market. We offer this transformer at cost effective prices to clients.
Key Features:
This transformer has strong mechanical strength and short-circuit withstand ability
Has a single layer winding on a toroidal core of high grade steel
Ideal for over and under voltage testing of electrical and electronic equipment
Description:

Continuously Variable Voltage Auto Transformer is the most effective device for stepless, breakless & continuous control of AC voltage & therefore for various parameters, dependent on AC voltage.

These Variable Voltage Auto Transformers, consists of a single layer winding on a toroidal silicon-steel core. As the control knob is rotated, a carbon brush traverses the winding, tapping off a portion of the total voltage across the winding. The brush is in continuous contact with the winding. The discrete voltage increments obtained as the knob is rotated are always less than the voltage between turns. Since the brush spans more than one turn, the change in voltage is practically continuous. As output voltage is continuously variable, Variable Voltage Auto Transformers are rated in terms of current that can be drawn from the output.

The basic continuously Variable Voltage Auto Transformers is meant for operation from a nominal input voltage of 240 V I ph AC & can give output voltage anywhere between 0 to 240 v or 0 to 270V AC by simple transformer action. Three such Variable Voltage Auto Transformers connected electrically in star and mechanically in tandem, become suitable for operation from a nominal input voltage of 415V 3Ph AC and can give output anywhere between 0 to 415V or 0 to 470V.


Features:

Simple, rugged construction.
Coils made from high grade CRGO Silicon Steel & Pure copper.
Variable DC Output can be given using Diodes & Rectifies.
Output voltage variation is smooth, continuous, break less & linearly proportional to angular rotation.
High efficiency.
Negligible waveform & power factor distortion.
Excellent short time overload capacity.
Remote operation possible by motorization.
Wide range of current ratings.
High quality carbon brush used for current collection.
MECHANICAL CONSTRUCTION
Single phase Variable Transformers are available in 3 types.
Potable type (P) with sheet steel enclosure for floor / table use.
Flush type (F) with open type construction. Suitable for panel mounting.
Tank type (T) immersed in oil in sheet steel tank with rollers.
Three phase Variable Transformers is usually ganged assembly of 3 coils, available in all 3 types: P,F,T.
Higher rating Continuously Variable Voltage Auto Transformers (above 200 Amps) use 2/3/4/5/6 or more coils in parallel with load balancing arrangements.
Tank type (T) immersed in oil in sheet steel tank with rollers.
Motorized Variable Transformers uses 240V AC Step-Syn Motor having 60 rpm speed at 50Hz. With proper gearing higher torque at lower speed can be achieved. Standard gear ratios used provide sweep time of 8, 15, 30, 45, 60, 120secs.
Variable Auto Transformer is a very useful & effective device for break less, step less & continuous control of AC voltage, and therefore control of several other parameters dependents on the AC voltage.
The normal output range is:
In single phase - 0 to 270 Volt
In three phase - 0 to 470 Volt
When three such variable auto transformer connected electrically in star and mechanically in tandem, turned suitable for operations of 415 v 3 phase AC supply, and to give output of 0 415 v, or up to 470 v.
We manufacture & supply Three Phase Variable Auto Transformer with enclosure / without enclosure. Here the average input range is 415 V & Output is 0 470 V, or up to 490 V. Also, we design & develop these three phase variable transformers with specific features, suitable for testing labs, educational institutions, etc. In oil-cooled models, we use appropriate radiators adequate to control the transformers heat. As per the requirements of customers, we provide motorization, distant control desk for decreasing, increasing, zero start, and other special features.
Rating available: 2 Amp to 2000 Amp
Single / Three Phase and Air / Oil Cooled
Special Input / Output Voltage ranges are also available on request
ELECTRICAL SPECIFICATIONS
MODEL

a)Flush Open Manual (Air Cooled) F

b)Portable Enclosed Manual (Air Cooled) P

c)In Tank Manual (Oil Cooled) T 'F' , 'P' , T suffixed by 'M' means motor operated models.

OPERATING VOLTAGE

For Single Phase 240V AC, 50-60 Hz. I- ph.

For Three Phase 415V AC, 50-60 Hz., 3 ph 4wire.

CURRENT RATINGS

For Oil Cooled models, maximum current & continuous current are Appx. One & the same.

For Air Cooled models. The power Factor is Appx. 0.8

OPERATING TEMP.

0o - 45oC

INSULATION RESISTANCE

Not less than 5M ohms at 500V DC.

DIELECTRIC TEST

2.5KV RMS for 1 Minute.

STORAGE TEMP.

- 9oC to 70oC

HUMIDITY

Upto 95% RH

CONFORMS TO

I.S. 5142.
Trade Information
Letter of Credit (L/C), Cheque

100 Per Week
Africa, Middle East

All India