Automatic Voltage Regulator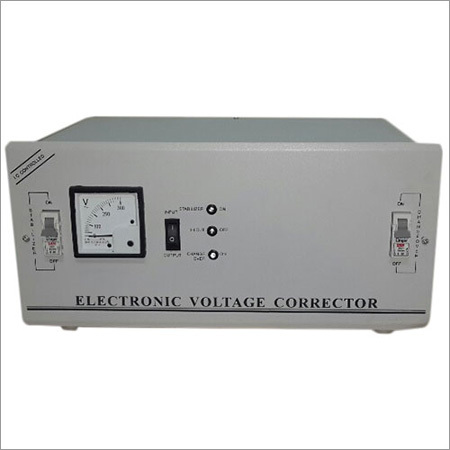 Automatic Voltage Regulator
Price And Quantity
Product Specifications
Automatic Voltage Regulator

98 %
Product Description
Automatic Voltage Regulator
We manufacture and export Automatic Voltage Regulators for schools, households and hotels, where the need of voltage stabilization is present. Generally in all the countries, the power is produced and transmitted through a 3 wire framework known as "Balanced Type Supply System (BTSS)". In the load, there are 1 phase as well as 3 phase equipment that require operating on 3-wire balanced system. In line with this, Delta/Star arrangement transformer is used at the final appropriation network point. By utilizing the same, the 3 wire framework winds up changed over into a 3 Phase 4 wire framework.
Key Features of Automatic Voltage Regulators
Regulator alters the winding numbers proportion by relay for balancing the output voltage
Circuit configuration embraces delay and over voltage security to safeguard equipments
Accessible in various technical specifications for customers
Other Information
It is important that there should be grounding of the neutral of the star side so that its floating / oscillation can be avoided. Neutral is fundamental for unfluctuating electrical conditions. It can also brings forth uneven 1 stage supply nature that is normally found in our distribution systems. Presently even in the aforesaid conditions, the line to line voltages stay adjusted for down to earth works disregarding uneven line to the neural voltages. Thus there are nearly less problems in operating a 3 stage loads when contrasted with 1 stage loads.
Types of Automatic Voltage Regulators / AVR
Unbalanced Type AVR: It is appropriate for different conditions. Every one of the stages are separately detected and remedied. It's an aggregation of 3 single stage units consolidated together. Suited for both adjusted and unbalanced stacking, incoming voltage. Unbalanced Automatic Voltage Regulators are used in various applications and businesses.
Balanced Type AVR:
One stage (master) detected, and all the 3 remedied as per the main phase. Reasonable just for adjusted loading and adjusted incoming voltage. In the event of all the 3 Phase nature stack, the balanced type AVR are utilized.
How to decide right KVA of Automatic Voltage Regulators
Few thumb rule conversions elements are given below:
KVA of Stabilizer = HP of lift * 3
KVA of Stabilizer = Tonnage of AC plant * 2
KVA of Stabilizer = H.P. for Resistive loads
KVA of Stabilizer = H.P. or KW/ Power Factor for Reactive loads
Ratings Available: 1 KVA to 1500 KVA (1 Phase / 3 Phases)
More About Automatic Voltage Controller / Automatic Voltage Stabilizer and Regulators
Perfect for air conditioners, our AVCs are designed with Toroidal Transformer (Copper Wound) to ensure enhanced life along with less heating. For displaying the output, Analog / Digital Display meters are provided in these products.
Salient Features:
Beautiful & Compact Design
Digital IC Controlled Circuit
Simple installation, operation, servicing and maintenance
Cost effective and efficacious stabilizer
German Technology Low Loss Toroidal Transformer
High And Low Voltage Cut-Off For Protection of Compressor
Intelligent Time Delay System Between Shutdown And Restarts, For Compressor Safety
Inter-Turn Insulation Withstand Five Times The Average Voltage & Frequency
Tested To Is 8448: 1994
Decreased Breakdown of Electrical Equipments
Reduction in MDI
Power Factor Improvement
End Product's Uniform Quality
Trade Information
Letter of Credit (L/C), Cheque

100 Per Week
Africa, Middle East

All India