Constant Voltage Transformers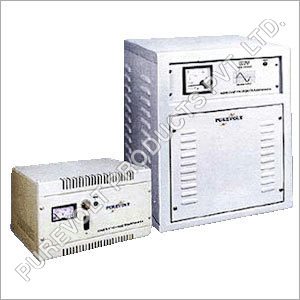 Constant Voltage Transformers
Price And Quantity
Product Specifications
500 VA to 10 KVA Kg/hr

Electrical Transformer
Product Description
Constant Voltage Transformers viably control current change, excels transients as well as bridge brief interferences. Our transformers are widely considered for properties such as less loss, high reliability, security from sudden short circuit, less local discharge and less noise. In home apparatuses and PCs, our range of constant voltage transformers are immensely used.

Details Of The Product
Constant Voltage Transformer that is internationally appreciated for providing precision of + 1.5 % of stable current output. We deploy high caliber materials as well as front line advancement to make this transformer in compliance with the defined grounds and standards of the industry. Our masters examine this Constant Voltage Transformer on pre-defined quality guidelines that make sure its elevated productivity and long lasting operational life. Furthermore, our product is world-widely applauded because of its small design, accurate functioning, least handling and simple installation.

The grades that are available to the customers comprise from 250 VA to 10 KVA.

More Information-
In our wide array of CVT, the AC mains controls the input winding. Which generally distincted physically from the separated output soldering. The input soldering usually keeps running at exceptionally direct flux connection levels. The output soldering shows an inherent energy repository feature as well as this power repository functions in conjunction with primes capacitor to deliver self-created AC flux area that is inexplicitly energized from the input soldering.

Remarkable Characteristics:

No moving component or semiconductor utilized, consequently high unwavering quality
No input control utilized.
Inherent current restricting and short circuit safety
Power repository for line lose approx. 3 ms at common stress
Short run excessive load limit
Greater input current regulation scope for stress less than evaluated low

EXTENT:
Our CVT is obtainable in broad range, varying from 50 VA to 10,000 VA with stress check and performed at 0.8 energy factor for all grades.

Areas of Usages:

Data Processing Equipment
Bio-Medical Instruments
Electronic Sort Writer
VCD/TV and DVD Players And Recorders
Computers
Color Photography Labs
Pa Instruments
Telecommunication
Fax Machine And Various Other Critical Electronic Devices

The Constant Voltage Transformers (CVT) that we are offering to the customers are input soldering , which is regulated by AC mains.

Our CVTs utilize a tank circuit consolidated with a great-current full winding, additionally capacitor to create a normal almost consistent output with a changeable input. Here the ferroresonant behavior is alluring, with its absence of dynamic parts, accounting on the square coil saturation attributes of the container circuit as to assimilate normal input current changes.

The ferroresonant work is a variable capacitor, instead of a current controller. Through a set deliver frequency, it keeps most consistent normal output current, even the input current fluctuates broadly. Almost each problem associated with change in currents are managed in a proper way due to the proposition as well as an output of consistent current of 1% is available. The CVTs are additionally regarded as ferros or ferroresonant transformers. They are effective sudden increase of suppressors, intrinsic short-circuit safety and offer great separation.

Outcomes of Constant Voltage Transformers:

Immediate current control
No impact of spikes on output and input transient
Curved output waveform
An ideal solution for every kind of electronic instruments

Our CVT is intended to provide customers complete safety from power allied issues, and to condition the ability to fulfill the requirements of microchip based instrument. It controls current change, dips/ bridges short interferences as well as stifles transients, in a powerful way.

Technical Specification:
| | |
| --- | --- |
| Input Voltage | 180V - 260V |
| Line Frequency | 50 Hz |
| Output Voltage | 220 230 + 1% |
| Output Step Load Response | 2 cycles (30 to 40 milliseconds) |
| Efficiency | 90% (approx) under full load conditions |
| Output Wave Form | Sinewave |
| Wave from Distortion | 5% (approx) under full load conditions |
| Load Power Factor | 0.75% lag to 0.9% lead |
| Ambient Temperature | -10oC to 50oC |
| Transformer Type | Ferro - Resonant |
| Effect of Frequency | 1.6 (approx) change in output voltage for every 1% change in the frequency. |
Trade Information
Letter of Credit (L/C), Cheque

100 Per Week
Africa, Middle East

All India