DSP Sine Wave Inverter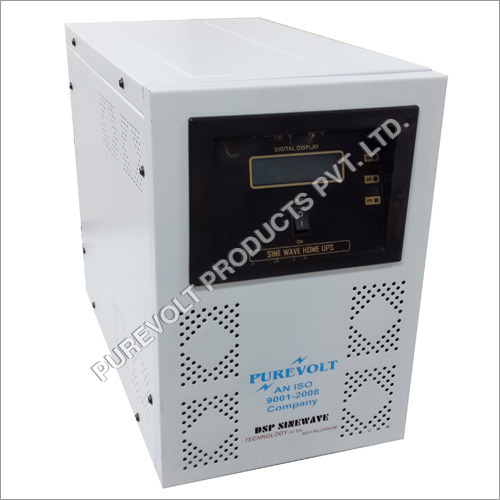 DSP Sine Wave Inverter
Price And Quantity
Product Specifications
DSP Sine Wave Inverter

220-230 Volt (V)
50 Hertz (HZ)

Over Voltage
Product Description
DSP Sine Wave Inverter
DSP Sine Wave Inverter accepts CPU concentrated regulation as well as surface mounting advancement. This inverter shields the precious instruments from every single feasible fault such as heavy load, short circuit, overload and low battery. Accessible in various configuration, it is a profoundly dependable inverter with low disappointment rate.

Our advanced infrastructure is outfitted with best in class machines that facilitate us to fabricate and provide DSP Sine Wave Inverter, which is relevant in large and medium office automation, accuracy equipment & instrument and scientific research institutions.

We are appreciated as the major manufacturer, exporter of DSP Sine Wave Inverter UPS, which is based on the latest and innovative technology of Digital Signal Processing Technology (DSPT) & IGBTs. These inverters are known for their good power conversation and the specification of 100 VA to 10 KVA in single phase operation. Their special design makes them ideal for all the appliances and they are sure to deliver best sine wave quality.

Some of The Salient Features:

Microchip based outline with less-power dissipation
Effective frequency charging with dual charging means
Our inverter in small in size and light weighted

We are a noteworthy supplier of DSP Sine Wave Inverter, which use modern digital indicate processing advancement as well as IGBTs. It offers extremely efficient power change, and possess customer amiable traits. We provide an expansive line of DSP Sine Wave Home Inverter/UPS, ranging from 100 VA to 10 KVA in one stage working. It is intended to be appliance amiable and reliable alongside great sine wave property.

Details of The Product:

Productivity > 80 %
Wide Charging Extent
UPS and Inverter Working
Charging Voltage Acceptable
Technical Specification:

MODEL

100VA/200VA/300VA/400VA/600VA/800VA/12V

1000VA/1500VA/24V

2000VA/36V

2500VA/3000VA/48V,4000VA/5KVA/72V,6KVA/96V, 7.5KVA/96V

Input voltage (UPS)

180-260v

180-260v

180-260v

180-260v

Input voltage (INV)

90-280v

90-280v

90-280v

90-280v

Output voltage on mains mode

Same as input

Same as input

Same as input

Same as input

Out voltage on inverter mode

220 + 5%

220 + 5%

220 + 5%

220 + 5%

Output frequency on inverter mode

50 Hz + 0.1 Hz

50 Hz + 0.1 Hz

50 Hz + 0.1 Hz

50 Hz + 0.1 Hz

Switching from mains to inverter and from inverter to mains.

Automatic

Automatic

Automatic

Automatic

Switching from mains to UPS and from UPS to Mains

Automatic

Automatic

Automatic

Automatic

Output waveform on mains mode.

Same as input

Same as input

Same as input

Same as input

Output waveform on inverter mode.

PURE SINE WAVE

PURE SINE WAVE

PURE SINE WAVE

PURE SINE WAVE

Battery charging current

Constant charging approx 6% of the rated battery current in AH.

Constant charging approx 6% of the rated battery current in AH.

Constant charging approx 6% of the rated battery current in AH.

Constant charging approx 6% of the rated battery current in AH.

Charger

Power factor controlled boost technology

Power factor controlled boost technology

Power factor controlled boost technology

Power factor controlled boost technology

Efficiency

> 80%

> 80%

> 80%

> 80%

Inverter overload

120%

120%

120%

120%

Inverter short circuit

300%

300%

300%

300%

Technology

DSP BASED DESIGN.

DSP BASED DESIGN.

DSP BASED DESIGN.

DSP BASED DESIGN.

Auto reset features

Yes

Yes

Yes

Yes

SOLAR SPECIFICATION

PV Panel Voc. Max.

23v

45v

68v

92v/138v/184v

PV Panel on load v Output

15.5v

31v

46.5v

62v/93v/124v

Output Current

10 to 40 Ampr

10 to 40 Ampr

10 to 40 Ampr

10 to 40 Ampr

Battery Full Charge Cutoff

3.8 VDC

27.6 VDC

41.4 VDC

55.2/82.8/110.4VDC
We are a major provider of DSP Sine Wave Inverter Ups. These Home Ups utilize cutting-edge digital signal processing technology (DSPT) & IGBTs. They provide very efficient power conversion, and have user-friendly attributes. We offer a broad line of DSP Sine Wave Home UPS / Inverter, from 100 VA to 10 KVA in single phase operation. They are designed to be reliable and appliances friendly along with high sine wave quality.

Product Details:


Efficiency > 80 %
Broad Charging Range
Inverter & UPS operation
Charging current adaptable


Available Rating: 100 VA to 10 KVA

Protected for short circuit, over current & over voltage
Trade Information
Letter of Credit (L/C), Cheque

100 Per Week
Africa, Middle East

All India